Description
"Honoring your flag doesn't cost a thing with this light unit. Gives off a bright beautiful glow onto the flag of your choice. It's bigger than the ad pic looks I have placed it next to a plate to show the nice size that it is. Easy to use just slide it on and it's pretty self explanatory. Be the brightest flag and house in town."

🔥Now Is Your Chance To Get 

Solar Flagpole Light

 All Night Long Last While The Store LAUNCH DISCOUNT Is On!🔥
The solar disk light is bright, durable, and perfect for residential flagpoles. This solar flag light is easy to install and lasts all night long. The sensor automatically turns 40 white LED bulbs (up to 600 lumens) on at dusk and the battery is large enough to last the duration of the night. It's not about the light, it's about the flag, and our solar disk topper flag light makes sure it's visible for all to see.
OUR LIGHT VERSUS THE COMPETITION
SHOW FLAG POLE LIGHTS:
FAQ:
How does this light attach to the pole?
It attaches to the stem on the ball topper of the pole. It will fit pretty much any ball topper without a problem.
Can it be used as a garden light?
Yes, you can hang the light as a garden lamp with the hook.
What is the weight of this solar disk light?
It is lightweight at 3/4 of a pound.
What are the dimensions of this light?
It is 10" in diameter looking at it from the top. It's also 2" inches thick. The center hole is 1/2 inch diameter and will fit standard 1/2 inch diameter flag topper stems.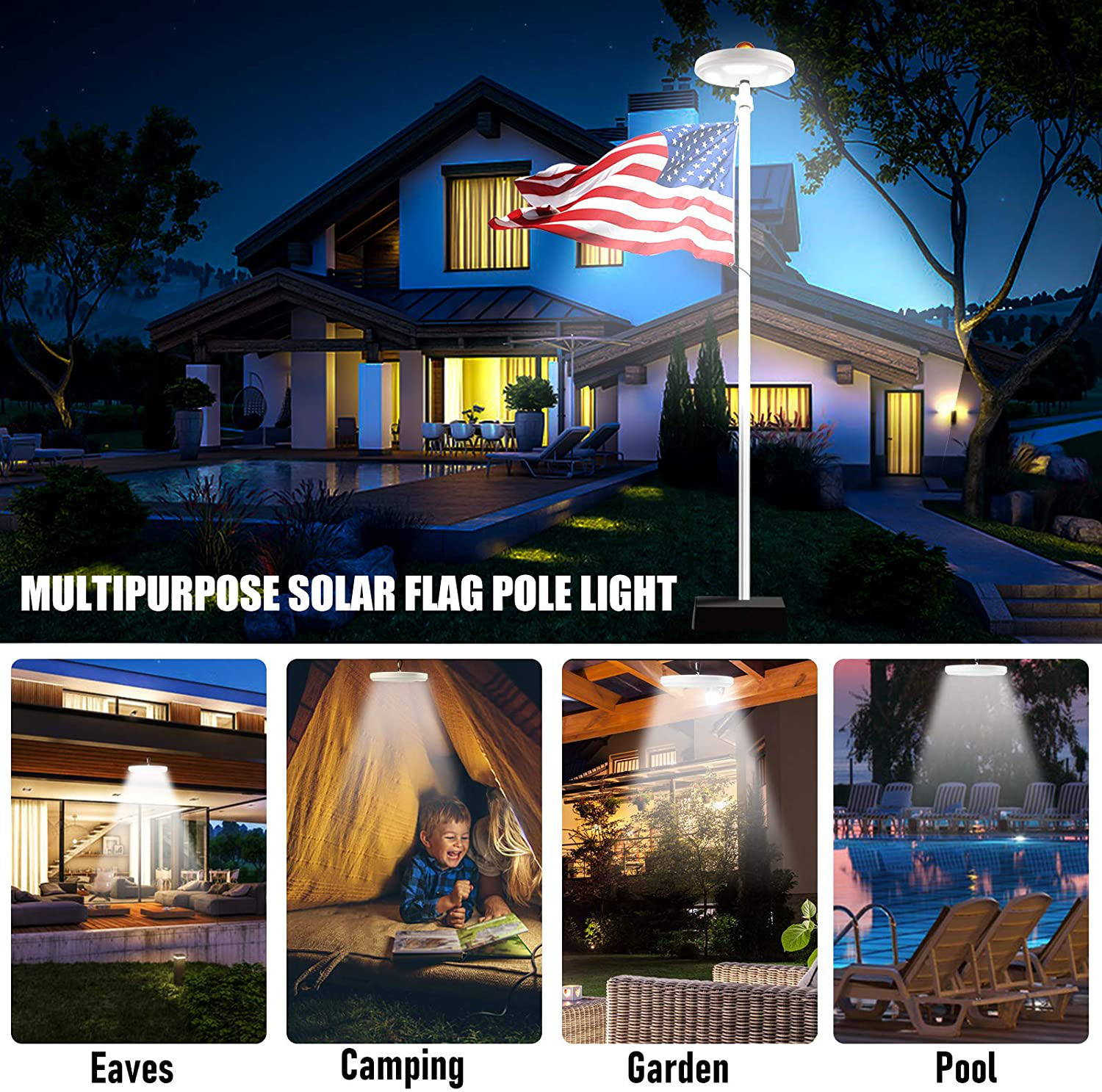 How to Install:
Push the switch of flag pole light to ""on"" position.

Unscrew the ornament from the top of your flag pole. Place the solar light and replace the flag pole ornament.

Raise your flagpole, it will light up automatically at night.